Spiritual cleansing tools
Whether you're looking to cleanse a space, an object, or even yourself, this sage smudge  bundle will help you restore balance and reap its calming benefits. Reclaim your power with this aromatic sage bundle.

Drawing on ancient spiritual traditions, our Californian White Sage Smudge Bundle is an effortless way to bring the power of nature into your home. 
You will receive one premium ethically sourced Californian White Sage Bundle approximately 4" long. Your sage bundle will last for 3 - 6 uses.
What is smudging and energy clearing?
Smudging is the ancient ritual of burning sacred plants to clear negative energy that is practiced by many global cultures. Californian White Sage is one of the most commonly used herbs for smudging due to its spiritual healing and purifying properties.
People, places and objects can all gather unwanted energy within their energetic fields and therefore benefit from regular smudging.
Smudge your home after parties or during times of high emotion
Seasonally smoke cleanse your home to maintain a good flow of chi
Use sage smudging to cleanse your crystals regularly to maintain their positive energy vibrations
Clear your personal energy field following stressful events or after visiting busy places
Clear your alter space before or during seasonal rituals or when setting intentions
Sage cleanse your yoga and meditation space before your practice so old thoughts and feelings don't interfere
Use white sage smoke to clear the energy of your tarot or oracle decks before and after use to maintain the integrity of their spiritual energy 
How to smudge and cleanse your home with White Sage Sticks
- Light the broad end of your sage stick with a lighter for about 20 seconds until the sage bundle is alight, gently blow out the flame and ensure there are glowing embers of the tip

- Keep its embers lit with a gentle blow and use a heat resistant bowl to catch the ash as you go
 - Move throughout your home spreading the aromatic smoke to windows, corners and hard-to-reach spaces
- As you smudge express your intention to clear away stagnant energy and welcome new possibilities
- Focus on high traffic areas of your home to clear the energy and keep the atmosphere positive and light
- Always burn your smoke cleansing sticks in a well ventilated space and allow smoke and stagnant energy to exit the space through a window or door
Regular price
Sale price
$8.00 USD
Unit price
per
Sale
Sold out
Product Details

You will receive one premium ethically sourced Californian White Sage Bundle approximately 4" long.

Your sage bundle will last for 3 - 6 uses.

Please loosen the bundle a little to allow air to get to the end if your sage stick needs relighting frequently to keep the embers smoking.
Delivery Info

Items are despatched within 1 - 3 working days.

Royal Mail delivery services:

UK Large Letters - FREE
UK Tracked 48 Parcels - £4.00
UK Tracked 24 Parcels - £5.00
Standard International - Prices start at £12


Free Shipping - available when you spend:


UK - £50+
Europe - £100+
Worldwide - £150+
Australia & New Zealand - £200+


Review our Shipping Policy for full details on rates and shipping times, including International rates
Our Ethics

At Rock + Realm we are fully committed to sustainability, respect for Mother Earth and fairness to people throughout the supply chain.

We use sustainable or reused packaging, support mangrove reforestation and only collaborate with businesses who share our values.
View full details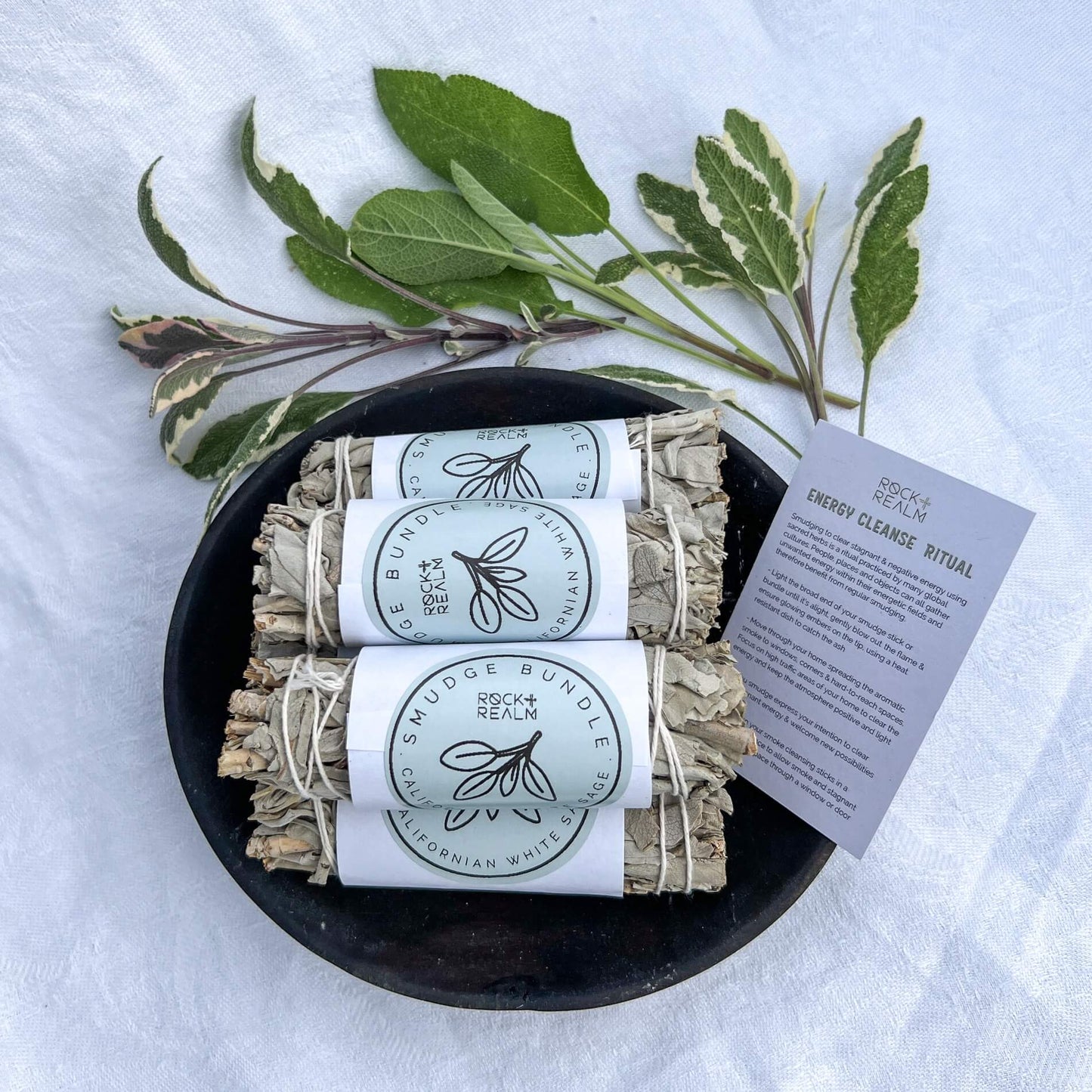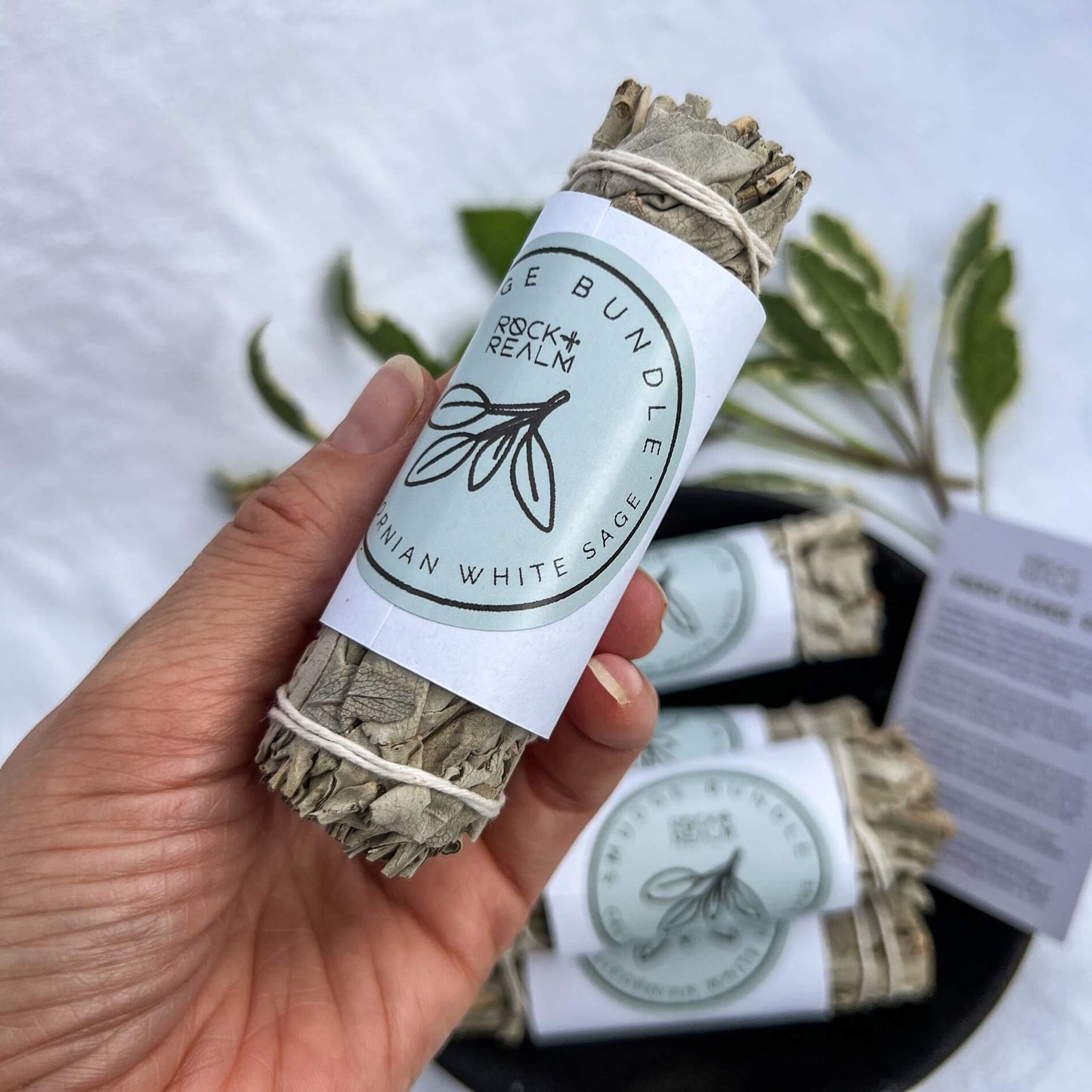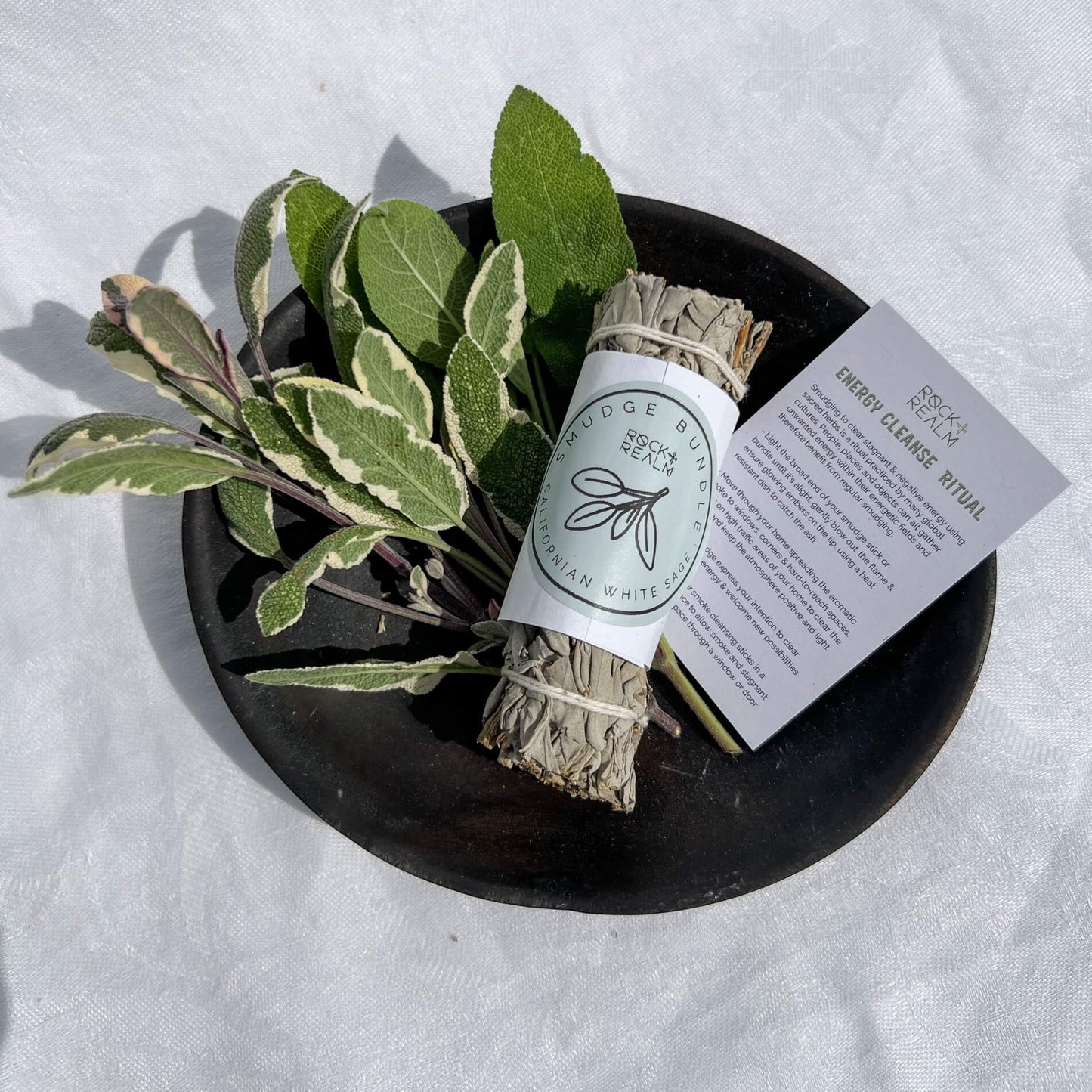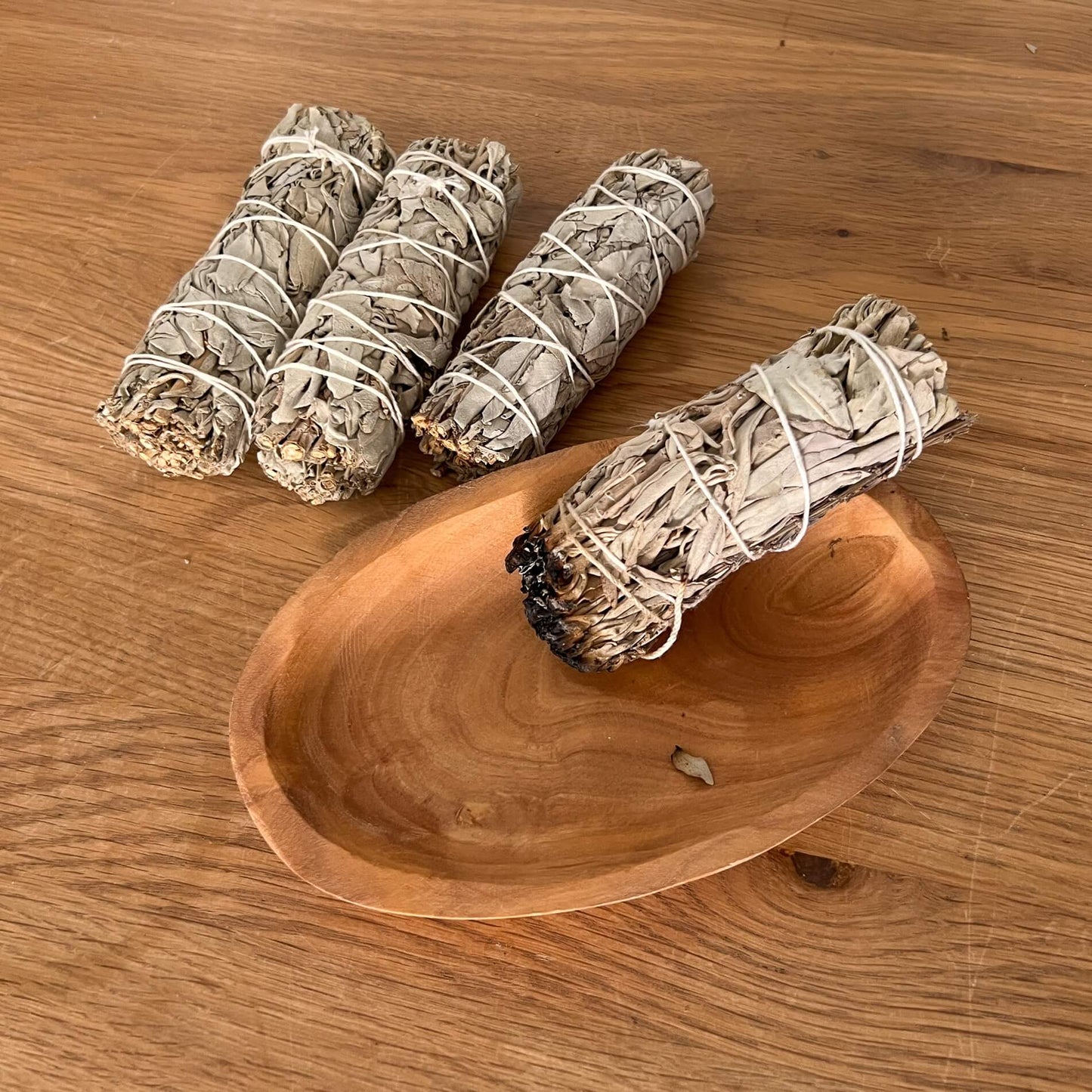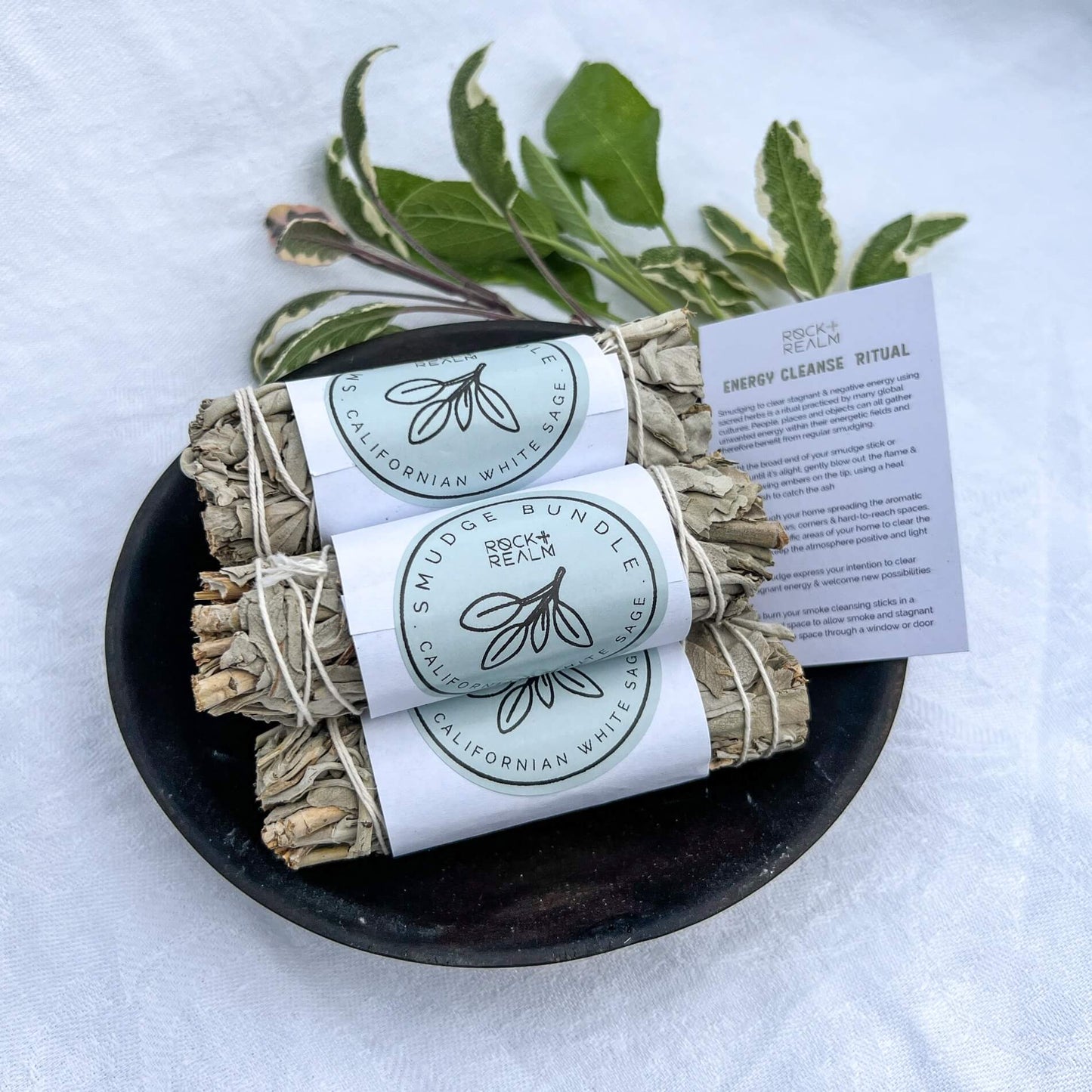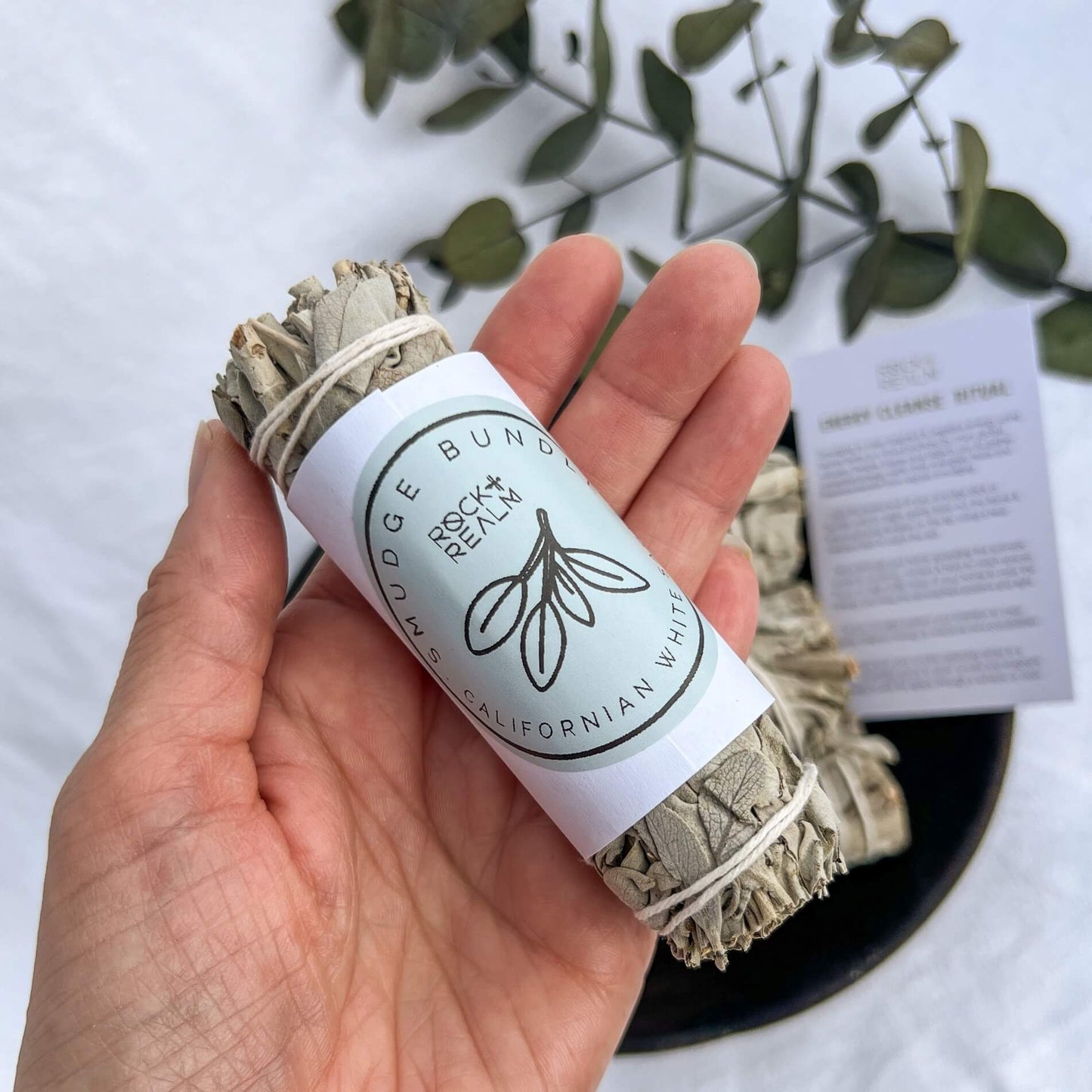 Shop with us and receive...
5-Star Service

Independently rated 'Excellent' by customers worldwide

Simple Returns

No-quibble 14 day refund policy

Buy 1. Plant 1.

1 tree planted with every order

Eco-Packaging

Reused, recycled or biodegradable packaging

Free Delivery

Free UK mainland delivery on orders over £50*